Star TSP847IIRx Receipt Printers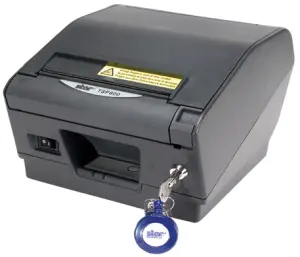 Manufacturer

Reliable & Secured Prescription Printer.
Print Method - Direct Thermal Only.
Print Resolution - 203 dots per inch(dpi).
Print Speed - up to 7.1 inches per second(ips).
Print Width - up to 4.41 inches wide.
Reliability - Print Head Life - 37 Million Lines; Auto Cutter - 2 Million Cuts.
Warranty - 3 Year Manufacturer Warranty.
Star TSP847IIRx Receipt Printers - Options
All Options
Accessories
Specs
Star TSP847IIRx Description
The secured Star TSP847IIRx prescription printer enables doctors to print thermal prescriptions vs. handwritten prescriptions from a pad avoiding legibility errors.
Utilizing specialized and secured thermal prescription paper, the prescriptions are printed using the latest electronic medical record (EMR) software in the industry, resulting in a secured legible script in seconds. No more messy ribbon replacements! The secured TSP847IIRx features simple and easy 'Drop-In' secured thermal prescription paper, the sole consumable.
The Star TSP847IIRx is available in Serial, Parallel, USB, Ethernet and Bluetooth interfaces. Star's TSP847IIRx is equipped for any medical facility. For those practitioners seeking a wireless solution, Star's TSP847IIRx BTi Bluetooth prescription printer is perfect for modern practices and hospitals utilizing tablets or mobile/ portable wireless stations.
Additional Star TSP847IIRx Strengths and Advantages:
Ultra Fast 37 Prescriptions Per Minute (180mm/s).
Locking Paper Chamber Deters Theft.
No Consumables Except Paper.
Quiet (55bB).
No Warm Up Time Needed.
Kensington Lock Slot for Locking Cable Harness.
'Drop-In & Print' Clamshell Design.
Extra Small Footprint: 7 in x 8 in.
Availability with Bluetooth connectivity and WebPRNT Browser.
Apple MFi Certified, the Star TSP847IIRx BTi receipt printer is approved for use with iPod Touch, iPhone and iPad. With operating system support for iOS, Android, and Windows, the TSP847IIRx BTi printer can additionally print receipts or data from a web browser-based application running on a mobile device wirelessly by configuring Star's WebPRNT Browser App. Once configured, simply pair your mobile device to the TSP847IIRx BTi, and print from WebPRNT Browser.
The Star TSP847IIRx Prescription Printer comes with a 3-Year Limited Warranty, Plus Optional Extended Services Agreement Policies (Extend-A-Star and Swap-A-Star).