ELO 2201L Touchscreens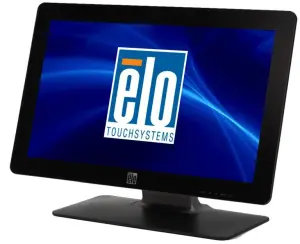 Manufacturer

ELO 22 in. LCD Wide-Screen Touchmonitor.
Diagonal Size - 22 inches with Aspect Ratio of 16 x 9.
Native Resolution - 1920 x 1080 with Display Colors - 16.7 Million.
Warranty - 3 years.
With the Elo Touch Solutions 2201L 22 Inch LCD desktop monitor, you always put your best foot forward. The 2201L touchscreen provides a HD display that gives the extreme clarity for perfect pictures while its 22 inch widescreen give users more space for multiple applications. The ELO 2201L Point of Sale Touch Screen is available with IntelliTouch Plus Dual-Touch, iTouch Single-Touch Touch Technology & Projected Capacitive 10-Touch Touch Technology options.
ELO 2201L Touchscreens - Options

All Options
Accessories
Specs

ELO 2201L Description

The EloTouch Solutions 2201L is a flexible, space-saving, HD wide-aspect ratio 22' LCD touchmonitor well-suited to meet durability and aesthetic requirements for front-of-store, back office, kiosk and even out-of-store applications.

Wide-aspect displays like the Elo Touch Solutions 2201L are easier to use and incorporate into the workplace than traditional desk-top touchmonitors. Wide-screen format displays allow extra content on the screen and are quickly becoming preferred in corporate environments for publishing and dual window applications, and are popular in public venue environments due to a high-definition cinematic-like experience.

Additional Strengths and Advantages of the ELO 2201L:



Touchscreen technologies: iTouch zero-bezel, IntelliTouch Plus multi-touch or zero-bezel PCAP multi-touch.
High definition LCD display offers ultimate HD interactivity, clarity and resolution.
16:9 aspect ratio panel.
USB touch controller, DVI, VGA and built-in speakers for a rich audio experience.
LED backlighting allows for state-of-the-art slim design, while reducing power consumption.
Removable base and mounting features, including a VESA mount as well as wall- and arm-mounting options for installation flexibility.
Ruggedized for use in high-traffic environments.
Optional peripherals include field-installable 3 stripe MSR and web camera.The Elo 2201L offers real versatility for a variety of retail and hospitality interactive solutions including:


Promotion of cross-channel, online sales in the store (shoppers purchase items online in the store for home delivery or shop for sold out or unavailable merchandise in additional store locations).
Hostess stations that require large screens to view restaurant layouts/seating charts.
Back office solutions integrating labor management and inventory analysis.
Customer assist and self-service solutions (theaters, hotels, auto dealerships).
Shelf-level/countertop interactive digital signage displays.
HD video capabilities for interactive lifestyle marketing in larger retail/lifestyle stores.Available with iTouch zero-bezel, IntelliTouch Plus multi-touch surface acoustic wave (SAW) touchscreen technology, and zero-bezel projected capacitive (PCAP) multi-touch, the ELO 2201L is compatible with Windows 7 and 8, and provides stable, 'drift-free' operation with excellent image clarity, resolution, and light transmission - for an accurate touch response and vivid images.

The ELO 2201L is distinctive by incorporating state-of-the art LED backlights that reduce the energy consumption of the higher energy consumption of CCFL backlights often used by other touchmonitors.