Star TSP700 CloudPRNT Receipt Printers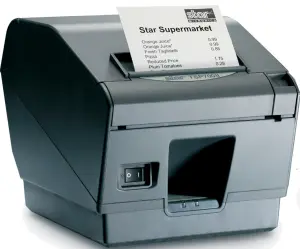 Manufacturer

High-speed & High-volume Direct Thermal receipt printer.
Print Method - Direct Thermal, Two-color printing.
Print Resolution - 203 DPI(dots per inch).
Print Speed - up to 53 receipts per minute .
Print Width - up to 3.15 inches.
Warranty - 3-year, manufacturer's limited warranty.
Built specifically to work in environments where heat and humidity can erode the type on the kitchen order, the SP742 is an ideal kitchen printing solution. This fast, two-color printer offers crisp, easy to read type for quick viewing, clamshell design for easy paper loading and an embedded power supply for space efficiency.
Star TSP700 CloudPRNT Receipt Printers - Options
Star TSP700 CloudPRNT Description
Building on the industry success of the
Star TSP700 Series
from Star Micronics, with a print speed of 53 receipts per minute (250mm/sec), the Star TSP700 CloudPRNT is the fastest single station printer on the market.
Star has added double resolution mode to increase sharpness to any graphic! Eye catching graphics for company logos and/or coupons are a print away.
The TSP700 CloudPRNT improved and sleeker design features a new top cover which extends to the edge of the printer making it more difficult for dust and liquids to penetrate and harm the printer. In addition to the extended cover, sound and vibration dampening channels within the printer, help reduce printing noise and also add an extra layer of protection from moisture or dust when used in harsher environments.
The Star TSP700 CloudPRNT ships complete with interface cover, wall mount kit, power switch cover, start-up roll of paper and a CD that features drivers and futurePRNT software.
The TSP700 CloudPRNT is ideal for high-volume retail establishments like grocery stores, healthcare, banking, as well as restaurants and carries the following value-added features:
Fastest single-station printer available today.
Interface cover included in the box.
Star serial port emulator.
Simple kiosk integration.
Stand alone queuing system.
Buzzer, vertical mount and PoweredUSB version are optional.To prove Star's full confidence in the Star TSP700 CloudPRNT, the ultra reliable printer, Star is offering the best warranty in the industry: a complimentary three year Extend-A-Star bumper to bumper.