Star TSP1000 Series Receipt Printers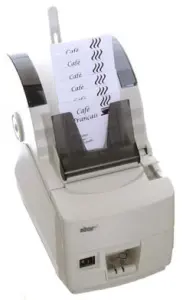 Manufacturer

High Capacity, Ticket & Thermal receipt printer.
Print Method - Direct Thermal, Two-color printing.
Ticket Stacker - up to 30 tickets.
Receipt Stacker - up to 30 receipts.
Print Resolution - 203 DPI(dots per inch).
Print Speed - up to 7 inches per second .
Print Width - up to 3.15 inches.
Ticket Length - from 2 to 12 inches.
Star TSP1000 Series Receipt Printers - Options
All Options
Accessories
Specs
Star TSP1000 Series Description
The Star TSP1000 Series ticket printer features a receipt and ticket stacker that can hold up to thirty tickes or receipts, making this versatile affordable printer ideal for ticketing, POS, kitchen, lottery and warehouse applications.

The TSP1000 printer is a flexible, high speed, high quality thermal receipt and ticket printer with a three position paper stop. A compact footprint makes it an ideal printer for demanding kitchen areas - the receipt stacker makes handling busy periods much simpler, by keeping orders in the sequence in which they were placed, providing the ability to stop printing once the stacker unit is full, and continuing to print from stored memory once the stacker has been emptied. In order to maintain table priority, the stacker sensor can even be defined by software to print tickets one at a time as they are removed from the printer.

With a print width of 82.5 mm, the capacity for 1st column printing and ticket stacker allowing the operator to take tickets as and when required. Featuring a high capacity paper roll of up to 180mm diameter with a fitted sensor to stop overloading of the stacking unit, and the ability to print on media up to 0.15 mm thick - makes the Star TSP1000 Series and ideal printer for any ticketing environment.