Epson TM-T70II Receipt Printers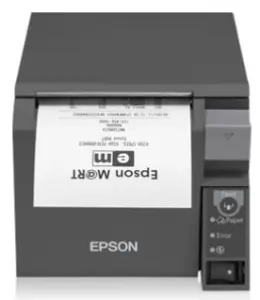 Manufacturer

Compact, mPOS Thermal Printer.
Print Method - Direct Thermal Line Printing.
Print Speed - up to 9.84 in/second.
Paper Width - up to 80mm.
Interface Options - Built-in USB; Connect-It including Serial, Powered USB, WiFi, Parallel, Ethernet & Bluetooth 2.1 + EDR options.
Mobil OS Compatibility - iOS, Android and Windows.
Dimensions - 4.92 in. x 7.64 in. x 4.49 in. (W x D x H).
Warranty - 2-Year Warranty.
Epson TM-T70II Receipt Printers - Options
Epson TM-T70II Description
Streamline your POS system with the Epson TM-T70II printer. With its small size and low height, only 4.49 inches high, it's designed to fit under your counter or in other small spaces. And it has all the features you need to keep your lines moving.

The Epson TM-T70II prints receipts and graphics at the same fast print speed up to 250mm/second. And with its 180 dpi resolution you are assured of crisp, clear receipts and eye-catching logos. Barcodes are also supported, including 2D.

The Epson TM-T70II is designed to work right out of the box with mobile POS applications. With Epson's unique ePOSPrint technology, the TM-T70II can print directly from any devices running an iOS, Android or Windows operating system with a WiFi or Bluetooth connection, using a HTML5 browser or native application.

The Epson TM-T70II printer is compatible with all of today's best-of-breed POS systems and the latest industry-standard wireless security protocols. The printer supports 802.11 a/b/g/n with 2.4GHz/5GHz compatibility or Bluetooth 2.1 + EDR. It also offers Serial, Ethernet and USB options, enabling flexible mobile and web-based receipt printing.

Additional Strengths and Advantages of the Epson TM-T70II:
mPOS-friendly printer compatible with iOS, Android and Windows mobile devices.
DHCP enabled model available for easy IP/network configuration.
Printer class model available for easy connection and discovery.
Supports 802.11a/b/g/n with 2.4GHz/5GHz and Bluetooth 2.1 + EDR.
Designed to fit under counters.
Fast printing up to 250mm/sec.
Paper saving options reduce costs.
Enables intelligent couponing triggered by keywords/sequence.The Epson TM-T70II is easy to configure and install and is packed with easy-to-use features including drop-in paper loading, long-lasting autocutter and all-front access.

With the Epson TM-T70II paper-saving options you can reduce your paper usage by up to 30%. The paper-saving settings are easy to use and do not affect print quality, readability or font size.

The Epson TM-T70II features the quality and reliability that Epson is known for, a low total cost of ownership and is backed by our leading service and support programs. Also, the Epson TM-T70II comes with a Two-Year Warranty.