Star SP317 Receipt Printers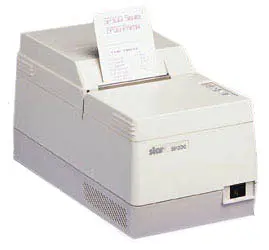 Manufacturer

High speed, impact receipt printer.
Print Method - Single Color, Impact dot matrix.
Print Speed - up to 5.5 lines per second.
Print Width - up to 2.7 inch.
Print Columns - up to 40 per line.
Paper Width - up to 3.25 inch.
Star SP317 Receipt Printers - Options
All Options
Accessories
Specs
Star SP317 Description
Everything points to the Star SP317 Series for POS Printers. Broad range. High speed output. Long life print heads of 200 million characters. Tough, durable designs. All leading to an exceptional reliability factor confirmed by a Mean Cycle Between Failures of over 8 million lines. And . . . low, low prices!

There's the best selling SP312 a 40 column, 3.2 lps tear-off receipt printer that can be linked directly to the cash drawer.

Based on this popular design there's also the SP342 which has an added auto cutter. And the NEW SP317 operating at double speed thanks to its twin heads.

Star recently introduced the SP349 kiosk printer with presenter, comes with auto cutter and extra large paper roll capacity for unattended print operation! While the nine pin sprocket SP320 is perfect for pre-printed label stock.

No matter what model fits your receipt printing needs, the Star SP317 is designed for a wide range of applications and comes with a 3-year warranty.