Star SMD2-1317 Cash Drawers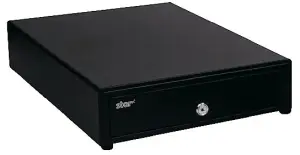 Manufacturer

Compact, Durable, Value Cash Drawer.
Cash Till - 5 Bill/4 Coin or 3 Bill/5 Coin for Canadian Currency.
Connectivity - Standard Printer Driven Interface.
Dimensions - 13.0 in (W) x 16.3 in (L) x 4.1 in (H) .
Warranty - 1 Year Limited Manufacturer Warranty.
Star SMD2-1317 Cash Drawers - Options
All Options
Accessories
Specs
Star SMD2-1317 Description
The Star SMD2-1317 cash drawers give retailers the ultimate flexibility in providing their customers with a truly unique shopping experience.
With the ability to communicate via standard printer driven interface with included cable, the Star SMD2-1317 cash drawers enable secure cash management in any sales environment.
Additional Strengths and Advantages of the Star SMD2-1317:
Standard Size Cash Drawer.
Quality All-Steel Construction.
ABS 4 Bill / 4 Coin Removable Cash Till.
ABS 3 Bill / 5 Coin Removable Cash Till for Canadian Currency.
Printer Driven Interface (Cable Included).
Available in medium (SMD2-1317), and large (SMD2-1617) sizes with either white or black color finish, Star's SMD2-1317 cash drawers have a look and fit suitable for any application.
The Star SMD2-1317 is ideal for any retail or hospitality environment.
The Star SMD2-1317 comes with a 1-Year Limited Warranty, Plus Optional Extended Services Agreement Policies (Extend-A-Star and Swap-A-Star).