Star mG-S8200 Scales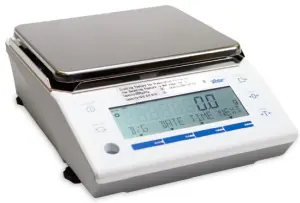 Manufacturer

NTEP certified, Legal for Trade Scale.
Max Capacity - up to 8200 g.
Verification Intervals - 1.0 g.
Software supported Windows, Android, iOS.
Connectivity - USB, Bluetooth, Serial (RS-232C).
Warranty - 2 Year Limited Manufacturer Warranty.
Star mG-S8200 Scales - Options
Star mG-S8200 Description
Star mG-S8200 adds to the already innovative line of value-added products that Star Micronics has to offer.
Built with a variety of markets in mind, mG-S8200 have the ability to improve business operations in the grocery, pharmacy, or cannabis industries.
Star mG-S8200 software support includes Windows, iOS, and Android making it simple to add mG-S8200 to an existing system.
Additionally, the scales will not limit the functionality of a point of sale (POS) system because they can connect through three different types of interfaces, Bluetooth BLE, USB, and Serial.
Another of the mG-S8200 scales' key features is that they can be powered either through outlet or battery operated, enabling portability when needed. mG-S8200 remain reliable thanks to the protection of a water- and dust-proof cover.
The new scales are NTEP certified to meet the 2017 requirements. Star's 3 mG-Scales are the first to market that can be used to sell any product as a result of the new NTEP communication standards between scales and POS systems.
mG-S322 - Perfect for the cannabis or pharmaceutical market. This scale can measure the finest substances to 0.01 g with a capacity to reach 320 g. This scale is certified in all states that have legalized cannabis sales.
mG-S1501 - Used to measure lighter products up to 1500 g. This scale can be used for cannabis sales in CO, WA, AK, MA, NV, ME where requirements for scales must measure in 0.1 g increments.
mG-S8200 - The largest capacity of the three scales. It can weigh small scale inventory, produce, and some deli products. The capacity reaches up to 8200 g and measures in 1.0 g increments.
The Star mG-S8200 comes with a 2-Year Limited Warranty, Plus Optional Extended Services Agreement Policies (Extend-A-Star and Swap-A-Star).