Star HSP7643 Receipt Printers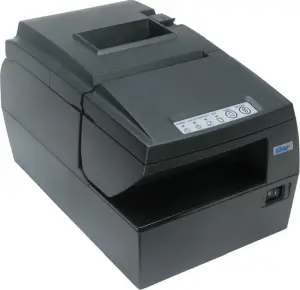 Manufacturer

The Star HSP7643 has been Discontinued and Replaced by the Star HSP7743.
Star HSP7643 Receipt Printers - Options
Star HSP7643 Description
Star Micronics is proud to announce another addition to its extensive product lineof POSprinters. Themultifunction (hybrid), Star HSP7643. The Star HSP7643 is designed to assist and empower users who want to extend the capabilities of their current system. Star Micronics has developed the best value solution for markets that utilize the three (3) primary functions of a multifunction printer:

Read the check's MICR reliably.
Endorse checks without jams.
Print a receipt as fast as possible.
The Star HSP7643 combines key features from Star's celebrated range of products, including the speed and reliability of the market leading TSP700II Series, and the engine from the high speed SP700 dot matrix printer. Star is bringing over 30 years of 'know-how' in POS to the Star HSP7643; resulting in customers receiving the features they need with the reliability they demand, minus the overhead of unnecessary features and associated cost.

Additional Strengths & Advantages of the Star HSP7643:


Ultra high speed receipt printing (250mm/s).
Built-inMICR Reader Standard on HSP7743 & HSP7643.
Affordable Price: Key Functions & High Quality Graphics.
Check Validation and Form Printing.
One Pass MICR + Check Validation (HSP7643).
One Pass MICR + Check Endorsement (HSP7743).The Star HSP7643 also comes with a Three-Year manufacturer warranty.