ELO 3202L Touchscreens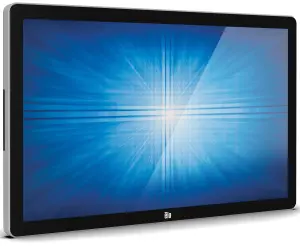 Manufacturer

ELO 32-inch interactive digital signage touchmonitor.
Diagonal Size - 31.5 inches with Aspect Ratio 16:9.
Native Resolution - Full HD 1920 x 1080 at 60Hz with Display Colors - 16.7 million.
Warranty - 3 years standard, up to 2 year extension available.
ELO 3202L Touchscreens - Options
ELO 3202L Description
The Elo 3202L 32-inch interactive digital signage delivers a professional-grade large format display in a slim, integrated package.

At 2 inches thin, the Elo 3202L is over 35% thinner than the 3201L and is compliant with the ADA and IBC requirements of less than 4-inch protrusion when mounted with an Elo 3202L low-profile wall-mounting kit.

Additional strengths and advantages of the Elo 3202L:
Thin (<4 in. mounted) design is attractive and compliant with ADA and IBC protrusion requirements.
Reliable, integrated IDS solution with optional NFC / RFID scanners and webcam kits.
Flexible mounting in portrait, landscape and table-top orientation.With a 500 nit LED panel, the 3202L is a bright, high quality display suitable for public environments. Available with a choice of two multi-touch touchscreen technologies, zero-bezel projected capacitive (PCAP) or Infrared (IR), both enable up to 10 simultaneous touches for multi-user interaction. The IR touchscreen is 4mm thick with fully tempered glass and the PCAP touchscreen is 2.8mm thick with chemically strengthened glass.

State of the art HD display technology is utilized including a high contrast/brightness LED-backlit LCD panel, extended color gamut with movie/gaming/photo modes, black level adjustment, and on-screen menu enhancements.

The ELO 3202L comes with the ELO 3-years standard warranty and up to 2-year extended warranty available.