ELO 1937L Touchscreens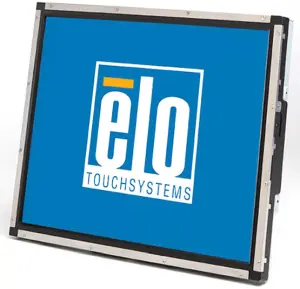 Manufacturer

ELO 19" LCD Open-Frame Touchmonitor.
Diagonal Size - 19 inches with Aspect Ratio of 5 x 4.
Touch Technology - Acoustic Pulse Recognition, Accutouch, and IntelliTouch.
Native Resolution - 1280 x 1024 with Display Colors - 16.7 Million.
Contrast Ratio - 1000:1 with Response Time - 10 msec.
Backlight Lamp Life - Minimun 50,000 hours.
Warranty - 3 years.
ELO 1937L Touchscreens - Options
All Options
Accessories
Specs
ELO 1937L Description
The ELO 1937L open-frame touchmonitor delivers a cost-effective touch solution for OEMs and systems integrators, and complements the expanded family of Elo touch solutions for gaming and amusement, retail self-service and kiosk applications. This compact touchmonitor is 'designed for touch' with proven expertise and reliability built-in, not added as an afterthought by altering an existing monitor.

Like all Elo open-frame touchmonitors, the specifications and tooling are controlled to ensure a long product life, which is important in maintaining continuity for all phases of project rollouts and servicing. The 1937L features an injection-molded bezel with a virtually invisible watertight seal, thus making it a good choice to withstand the rigors of public use. Narrow borders, black anodized bezel hardware, multiple mounting options, and dual serial/USB touch interface (APR is USB only) add to the touchmonitor's flexibility. Worldwide agency approvals cover the entire monitor that is developed, built and supported by Elo Touch Solutions, a true single-source supplier.

Additional Strengths and Advantages of the ELO 1937L:


High quality panel with 160 degree x 160 degree viewing angle.
800:1 contrast ratio.
Long-lasting product cycle - enclosure controlled by Elo specifications.
Future generation panels phased-in without external changes.
Integrated precision mini-bezel with watertight 0.5 mm seal.
Mounting options including rear-mount (with two included mounting brackets) and VESA mount.
Acoustic Pulse Recognition (APR) touch technology with USB interface; AccuTouch 5-wire resistive and IntelliTouch touch technologies with dual serial/USB touch interfaces.
Integrated multilingual on-screen display (OSD), connector for optional remote on-screen display (OSD).
Worldwide agency approvals.
3 year warranty.
3D electronic design files available.The ELO 1937L is available with a choice of one of Elo's industry leading touch technologies: Acoustic Pulse Recognition (APR), AccuTouch 5-wire resistive or IntelliTouch surface acoustic wave. The comprehensive range of features includes an analog interface, multi lingual on-screen display (OSD), mounting VESA standard, mounting brackets, cabled remote on-screen display (OSD), and worldwide compliance.