ELO 1739L Touchscreens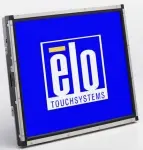 Manufacturer

17" LCD, Rear-Mount Touchcomputer.
LCD Technology - Active Matrix TFT LCD.
Optimal Resolution - 1280 x 1024 with Display Colors - 16.7 Million with dithering.
Contrast Ratio - 1500:1 with Response Time - 25 msec.
Backlight Lamp Life - Min. 50,000 hours.
Monitor Warranty - 3 years.
ELO 1739L Touchscreens - Options
ELO 1739L Description
The ELO 1739L 17' LCD rear-mount touchmonitor delivers a cost-effective touch solution for OEM's and systems integrators, and complements Elo's expanding family of touch solutions for applications in the retail self-service and gaming/amusement markets. This compact touchmonitor is 'designed for touch' from the ground up, with Elo's proven expertise and reliability built in, and not added as an afterthought by altering an existing monitor.

The ELO 1739L features a brilliant wide viewing angle panel to instantly grab and hold the users' attention, whether they are checking out retail goods with a self-service kiosk or playing games in a casino or arcade. Because the enclosure is controlled by Elo's specifications and tooling, Elo's rear-mount monitors have a long-lasting product cycle - important for continuity through all phases of project rollouts and when servicing. It also features a unique, injection-molded minibezel with virtually invisible watertight seal, making it ideal for the rigors of public use.

Additional Strengths and Advantages of the ELO 1739L:


Long lasting product cycle-enclosure controlled by Elo specifications.
800:1 contrast ratio, and 300-nit brightness (LCD panel).
High quality panel with 160 degree x 160 degree viewing angle.
Future generation panels phased-in without external changes.
Integrated precision minibezel with watertight 0.5 mm seal.
IntelliTouch Surface Wave, SecureTouch vandal-resistant Surface Wave, Surface Capacitive or CarrollTouch Infrared touch technology with dual serial/USB touch interface.
Mounting options including rear-mount and VESA mount.
Optional front mount and rack mount bezels.
Multilingual on-screen display (OSD).
Worldwide agency approvals.
3-D electronic design files available.
Fully RoHS compliant.Narrow borders, multiple mounting options, and a dual serial/USB touch interface add to the versatility of the ELO 1739L. Worldwide agency approvals, as set forth on the back side of this datasheet, cover the entire monitor that is designed, built and supported by Elo, a true single source supplier.