ELO 1593L Touchscreens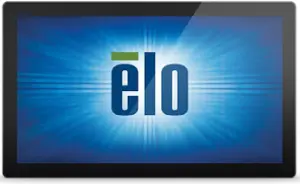 Manufacturer

ELO 15.6-inch open-frame LCD touch display.
Diagonal Size - 15.6 inches with Aspect Ratio 5:4.
Native Resolution - 1366 x 768 at 60 Hz with Display Colors - 16.7 million.
Warranty - 3 years standard, up to 2 year extension available.
All Options
Accessories
Specs
ELO 1593L Description
The Elo 1593L 15.6 inch open-frame LCD touch display features a slim design and narrow outside dimensions due to the state-of-the art energy-saving LED backlight, using less electricity to operate and generating less heat.

The Elo 1593L features a brilliant wide viewing angle panel, the 1593L instantly grabs and holds the users' attention for kiosks, casino and amusement, retail self-service, and industrial automation.

This 1593L compact touch display is 'designed for touch' with proven Elo expertise and reliability built in. The 1593L provides stable 'drift-free' operation with outstanding image clarity and light transmission-for accurate touch responses and vivid images.

Additional strengths and advantages of the Elo 1593L:
Choice of Elo touch technologies: Standard bezel: IntelliTouch SAW Zero-bezel: Projected capacitive.
PCAP 2GS (two glass solution) offers pristine optical clarity and touch durability.
Touchscreen sealed against dirt, dust and liquids.
LED backlighting allows for state-of-the-art slim design while reducing power consumption.
10 touch projected capacitive (PCAP) with Thru-glass capabilities that passes UL-60950 & IK-07 Impact testing.
Display Port and VGA video interfaces.The Elo 1593L touchscreen is sealed against dirt, dust and liquids, which simplifies integration into the final enclosure. Long-lasting product availability can be expected as the design and tooling is controlled by Elo specifications.

Available with a choice of industry leading touch technologies, in single- or multi-touch technology, including IntelliTouch single-touch surface acoustic wave (SAW), and Elo's latest projected capacitive (PCAP) 2GS (two glass solution) multi-touch display with zero-bezel, offering both a ten touch 'tablet like' interactive experience along with thru-glass functionality - both modes support single or dual latex gloves as well as cloth gloves.

The Elo 1593L open-frame LCD touch display provides an economical solution for system integrators and VARs.

The ELO 1593L comes with the ELO 3-years standard warranty and up to 2-year extended warranty available.