ELO 1541L Touchscreens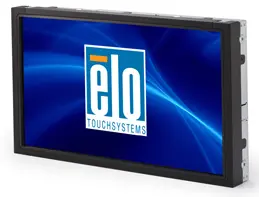 Manufacturer

ELO 15" LCD Open-Frame Touchmonitor.
Diagonal Size - 15.6 inches with Aspect Ratio of 16 x 9.
Native Resolution - 1366 x 768 with Display Colors - 16.7 Million.
Contrast Ratio - 500:1 with Response Time - 16 msec.
Backlight Lamp Life - Minimun 50,000 hours.
Warranty - 3 years.
ELO 1541L Touchscreens - Options
ELO 1541L Description
The Elo TouchSystems 1541L 15' LCD wide-screen open-frame touchmonitor is easier to use and incorporate into commercial and industrial environments than traditional open-frame touchmonitors.

Wide-screen format (16:9 aspect ratio) of the 1541L displays allow more content on the screen than standard aspect ratio (4:3) and are quickly becoming the preferred choice where a larger touch activated surface area is desired. In addition, these displays deliver high-definition cinematic-like experience that is especially valuable for public venue environments.

Like all Elo open-frame touchmonitors, the specifications and tooling are controlled to ensure a long product life, which is important in maintaining continuity for all phases of project rollouts and servicing. The 1541L features an injection-molded bezel with a virtually invisible water-resistant seal, thus making it a good choice to withstand the rigors of public use. The ELO 1541L has a compact form factor and multiple mounting options for easy integration. It features a high quality LCD panel and worldwide agency approvals.

Additional Strengths and Advantages of the ELO 1541L:


16:9 aspect ratio (wide-screen).
High quality panel with +/- 85 or 170 degrees (horizontal) and +/- 65 or 130 degrees (vertical) viewing angle.
500:1 contrast ratio.
Integrated precision mini-bezel with water-resistant 0.5mm seal.
Mounting options including rear-mount (with two included mounting brackets) and VESA mount.
Choice of two industry-leading touchscreen technologies: AccuTouch 5-wire resistive, IntelliTouch Plus multi-touch surface acoustic wave.
Worldwide agency approvals.
Three-year warranty.The ELO 1541L is available with a choice of AccuTouch 5-wire resistive and IntelliTouch Plus surface acoustic wave touchscreen technologies.