ELO 1523L Touchscreens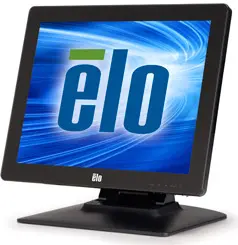 Manufacturer

Durable and Versatile 15" LED Desktop Touchmonitor.
Diagonal Size - 15 inch with 4 x 3 Aspect Ratio.
Native Resolution - 1024 x 768 with Display Colors - 16.2 Million.
Warranty - 3 years.
ELO 1523L Touchscreens - Options

All Options
Accessories
Specs

ELO 1523L Description

The Elo Touch Solutions 1523L 15-inch touchmonitor is well-suited to meet the durability and aesthetic requirements for a variety of high traffic retail and hospitality interactive solutions and includes options for a 3-track Magnetic Stripe Reader (MSR), webcam, RFID reader and brackets for mounting a 0700L rear-facing customer display. iTouch Plus zero-bezel multi-touch surface acoustic wave touchscreen technology provides stable 'drift-free' operation with outstanding image clarity, resolution, and light transmission - for an accurate touch response and vivid images. iTouch Plus offers a unique, aesthetically-pleasing seamless design and is resistant to dirt, impacts, scratches and other contaminants on the screen.

Additional Strength and Advantages of the ELO 1523L:



Integrated peripheral options include a MSR, webcam, RFID reader and brackets for mounting an 0700L rear-facing customer display.
Integrated cable management.
iTouch Plus surface acoustic wave (SAW) touchscreen couples zero-bezel design with multi-touch functionality.
Desktop, wall or VESA mounting.
Dual position stand - single hinge with high/low settings and tilt functionality.ELO 1523L Applications:
Point-of-Service.
Point-of-Sale.
Loyalty systems.
Kiosk information systems.
Light industrial.
Gaming/amusement.
Internet access points.The ELO 1523L has been 'designed for touch' from the ground up, with such features as a spill-resistant sealing, adjustable height stand with tilting functionality, VESA mounting option, connectivity incorporated within the monitor (reducing the number of power bricks and communication cables), and menu controls with lockout capability.