ELO 1515L Touchscreens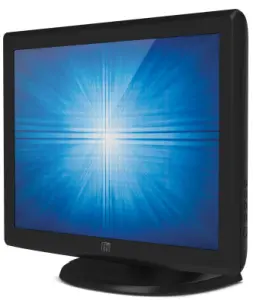 Manufacturer

15" Point of Sale LCD Touchmonitor.
Display Type - Active Matrix TFT LCD.
Touch Technology - AccuTouch & IntelliTouch (SAW) options.
Optimal Resolution - 1024 x 768 with 16.7 million colors.
Dimensions - 13.8" W x 12.2" H X 6.9" D.
Monitor Warranty - 3 years.
The Elo 1515L 15-inch touchscreen monitor delivers professional grade built for touch reliability in an affordable compact footprint. Whether the 1515L is being used in a cafe, bar, hospitality industry or warehouse, the space-saving ELO1 515L touchscreen includes a stable base, side controls and lock-out capability for public use. Whether used as a desktop or a wall-mounted unit, the ELO 1515L offers flexibility for mounting and offers two touch technology options.
ELO 1515L Touchscreens - Options
All Options
Accessories
Specs
ELO 1515L Description
The Elo 1515L touchmonitor is designed, developed and built to provide the most cost-effective touch solutions for system integrators, and VARs. It packs Elo's quality and reliability into a integrated, affordable touchmonitor with a footprint smaller than a standard 15' display.

This new cost- and space-saving touchmonitor is designed for touch -- the technology is built into the 1515L from the ground up and not added as an afterthought by altering the original monitor. It includes a stable base, controls that are placed on the side rather than the front and are locked-out for public use. The 1515L can function as a desktop or wall-mounted unit and includes a VESA mounting option. The optional 3-track magnetic stripe reader (MSR), programmable to either HID or Keyboard Emulation (USB only), is easily installed by the user, providing an elegant, integrated solution and eliminating the need for external brackets or attachments.

The 1515L display is factory sealed against dirt and dust, and the unit offers a choice of the two best touch technologies on the market today: the anti-glare clarity and superior performance of the 1515L's IntelliTouch surfacewave, and Elo's timetested AccuTouch five-wire resistive touch technology.

Features of the ELO 1515L
Up to 1020 x 768 resolution at 75 Hz
Available with AccuTouch Five-Wire Resistive Technology (activated with fingernails, gloves, credit cards, or any stylus), IntelliTouch Surface Wave Technology for superior image quality (activated with finger or glove), or Acoustic Pulse Recognition Technology
Optional ergonomic 3 stripe MSR available in two versions: USB with keyboard emulation; and USB with human interface devise (HID) class specification 1.1
Sealed touchscreen
Dual serial/USB interface
Removable base and VESA mounting option
Mounting holes on base bottom for tabletop security
Controls on the side, plus lockout function for public use
Digital on-screen display (OSD)
Internal power supply1515L Applications
Point-of-sale (POS)
Point-of-service
Loyalty systems
Countertop kiosk information systemsThe Elo 1515L 15' LCD desktop touchmonitor provides an affordable product in a convenient, space-saving design that provides both first-time and experienced users the ability to deploy touch solutions to market easier, more reliably, and far more cost-effectively than ever before.