Zebra ZQ520 Portable Printers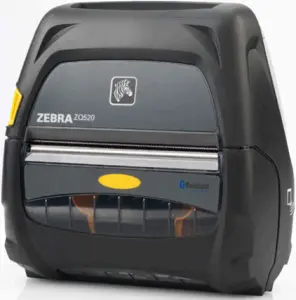 Manufacturer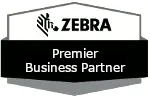 Industrial Strength, 4-Inch Mobile printer.
Print Method - 203 DPI, Direct Thermal Printer.
Print Resolution - 203 dots per inch(dpi) options.
Print Speed - up to 5 inches per second(ips).
Print Width - up to 4.09 in. wide.
Warranty - 12-month warranty with extended-warranty options.
The Zebras ZQ520 mobile printers are the most rugged portable printers available. They print receipts, barcodes and labels in the widest operating temperature range in the industry and can withstand repeated drops to concrete from up to 6.6 feet. Water spray is no match with the ZQ520 IP54 rating. Featuring Zebras Link-OS environment, the ZQ520 mobile printers are easy to integrate, manage and maintain. With large buttons and a user-friendly interface, the Zebra ZQ520 printers are easy to operate, even when wearing gloves.
Zebra ZQ520 Portable Printers - Options
All Options
Ready-to-Go Kits
Accessories
Direct Thermal Labels
Specs
Zebra ZQ520 Description
The Zebra ZQ520 offers best in-class, rugged mobile printers for applications outside of a business's four walls.

The Zebra ZQ520 premium 3 in. and 4 in. ZQ520 printers are Zebra's next-generation of high-performance mobile printers. The printers' patented, military-grade design provides exceptional durability and reliability in the toughest environments.

Optimized for on-demand receipt printing in transportation & logistics and government, the ZQ520 can also produce labels for a range of applications. These ZQ520 mobile printers can withstand the drops, bangs, bumps, accidents and environmental extremes that are common in mobile workplaces - making them ideal for on-the-go employees whose productivity depends on maximum printer functionality.

With the Zebra ZQ520, you gain the peace of mind knowing your mobile printers will not only withstand the elements, but also provide the power, connectivity and reliability your mobile employees need. Qualified by a third-party laboratory per MIL-STD 810g for drop and vibration test procedures, the Zebra ZQ520 printers feature a unique combination of an IP54-rated design for protection from dust ingress and water spray and engineering details - making these ZQ520 printers the most rugged mobile printers on the market.

Advantages of the Link-OS Software Solutions for teh Zebra ZQ520:
Profile Manager - Advanced, server based device management for networked printers, operates via a web browser interface.
Cloud Connect - Secure, direct, encrypted and authenticated connections to the web for printing and device management.
Virtual Devices - Use legacy and non-Zebra command languages to print labels and tags.
Zebra Utilities - Print from iOS, Android, Windows Mobile devices.
Print Station - Driverless printing from Android devices.
AirWatch Connector - Manage from within the AirWatch environment.
Mulitplatform Software Development Kit - Simplifies printing application development with support for Blackberry, Apple, Android, WinCE, WinMobile, Windows desktop and Linux/Unix platforms.In addition to offering easy setup, the ZQ520 printers are simple to manage and maintain with the Link-OS environment, advanced Bluetooth, Smart Ready 4.0 (Low Energy) connectivity and Print Touch device pairing.

Zebra ZQ520 printers are Made for iPod/iPhone/iPad(MFi) and Wi-Fi Alliance certified to support connectivity to a range of Apple, Android and Windows Mobile devices. And, with best-in class accessories that are compact and multi-purpose, the ZQ520 printers can transform cars, trucks and vehicles into productive mobile offices.

Also, the Zebra ZQ520 is backed by the Zebra 12-Month Consolidated Global Warranty.