Star SP298 Slip Printers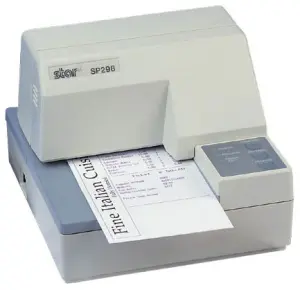 Manufacturer

Fast & economical slip printer.
Prints pre-printed multi-part forms.
Print Speed - 3.1 lines per second.
Print Method - 9 pin, dot matrix slip printing.
Print Width - 2.7" x 3.15" minimum.
Paper Width - from 3.15" to 7.17".
Print Columns - up to 42 per line.
Star SP298 Slip Printers - Options
Star SP298 Description
The new Star SP298 printer is directly code compatible with the old Epson TM-U295. Compatible, but superior.

As you would expect it's faster (3.1 lps Vs. a mere 2.1 lps), more reliable and delivers clarity you wouldn't believe (9 pin head versus a 7 pin head, ie no descenders). Not only that, but the SP298 printer drops neatly in place using your existing power supply, serial connection and cash drawer drive. No hassle, no fuss — just plug and go.

So when your Epson wears out and you want something smaller and faster and more reliable, slip in the Star SP298.