Seagull-Scientific BarTender Professional Barcode Label Software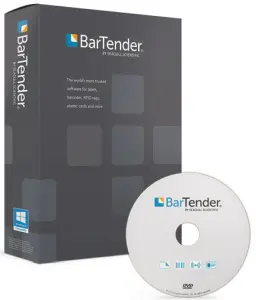 Manufacturer

Requires one Application License plus additional printer licenses.
Printer licenses can be added in any quantity.
Pricing is the addition of the Application License plus the desired number of Printer Licenses.
Application License comes with 1-Free Year of Standard Maintenance and Support.
Seagull-Scientific BarTender Professional Description
Seagull Scientific BarTender Professional is the leading true Windows barcode label software program. This professional label design and barcode software tool has powerful features for compliance labels and integration with enterprise software. It even supports RFID tags. Yet BarTender Professional is so easy, it gets beginners designing in minutes.
With BarTender Professional, a few quickmouse motions are all it takes to combine barcodes, text, and graphics into professional quality labels. You can even encode RFID tags. Incredibly careful attention to the look and feel means that, if you've used even one other Windows program, you're ready to start designing labels today.
Seagull-Scientific BarTender Professional Features:
Includes - All of BarTender's most powerful label design features. Most of the advanced data access capabilities, including OLE DB and ODBC. Includes Printer Maestro, but it only manages network printers visible to the local PC. Fully network compatible.
Omits - No control from within other software. (No ActiveX, Commander or command lines.) No SAP, Oracle XML or other XML support. No job logging or e-mailed error alerts. Cannot export printer code templates. No History Explorer, no Reprint, and no inventory control of printer supplies.

Seagull-Scientific BarTender BarTender Professional any printer with a Windows driver. In addition to virtually all laser, ink-jet and dot-matrix printers, this includes the following, for which Seagull has developed its own enhanced Windows printer drivers.