Zebra RW 220 Portable Printers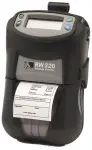 Manufacturer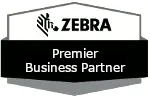 The Zebra RW 220 has been Discontinued and the Replacement is the Zebra ZQ110.
Reliable & User Friendly Portable Printer.
Print Method - Direct Thermal Only.
Print Resolution - 203 dots per inch(dpi).
Print Speed - up to 3 inches per second(ips).
Print Width - up to 2.37 in. wide.
Memory - 8 MB Flash, 16 MB RAM.
Media Roll Diameter - up to 2.25 inches Outer Diameter with Core Diameter - 0.75 inches.
Warranty - 12 Month Manufacturer Warranty.
All Options
Accessories
Specs
Zebra RW 220 Description
The Zebra RW 220 is designed for the Road Warrior! The Zebra RW 220 of mobile printers is ideal for printing delivery receipts and invoices on the go. The modular design allows users to choose among wireless options, card readers, and integral accessories such as vehicle mounts for simplified route printing. Easy-access vehicle mounting cradles and charging options as well as user-intuitive interfaces and angled displays enhance the convenience and simplicity of mobile printing.

Uniquely designed for harsh outdoor environments, the Zebra RW 220 mobile printers endure extreme temperatures and weather conditions. Bounce it in the truck, carry it in the rain, drop it to the pavement, and expect the same performance day in and day out.

Additional Strengths & Advantages of the Zebra RW 220:


IP54-certified for resistance to windblown water and dust.
Damage-resistant to multiple drops of up to 6 feet to concrete.
Weight of 1 1/2 to 2 pounds for effortless mobility.
Resistant to extreme hot and cold temperatures.
Single push-button media access for simple re-loading.
Angled LCD for easy viewing of printer status comes standard.
Print using the same commands as your Zebra tabletop or desktop printers with common language support.
Choose the wireless connectivity module that suits your needs: 802.11b/g, Bluetooth 2.0, dual radio support - for using Bluetooth and WLAN in the same printer (RW 420 only).
Quickly and easily print complex labels, symbologies and graphics thanks to the RW series' fast processor and large memory.The Zebra RW 220 also comes with a 12-Month manufacturer warranty.