Star TUP900 Kiosk Printers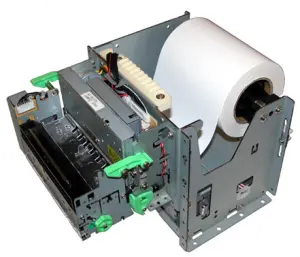 Manufacturer

Wide Format Modular Kiosk Printer.
Print Method - Direct Thermal Printing.
Print Speed - up to 5.90 inches per second.
Paper Width - from to 3.15 in. to 4.40 in.
Swappable Communication Interfaces.
Warranty - 2 Year Limited Manufacturer Warranty.
Star TUP900 Kiosk Printers - Options
All Options
Accessories
Specs
Star TUP900 Description
The Star TUP900 Kiosk Printing solution from Star Micronics brings the ultimate in flexibility and performance to kiosk printing. Its modular design simplifies integration with many different kiosk configurations.
The looping presenter of the Star TUP900 ensures jam-free operation by eliminating user access to the document while it is printing. The presenter also allows for the capture of documents which are not removed by the user.
Paper handling capabilities of the TUP900 provides up to 6 inch diameter paper rolls (up to 10 inch with optional large paper roll holder) with widths from 80 to 112 mm give the TUP900 ultimate paper flexibility.
Additional Strengths and Advantages of the Star TUP900:
Looping Presenter Virtually Eliminates Paper Jams.
Modular Design for Easy Integration.
Adjustable Print Width from 80mm-112mm.
High Speed: 150mm/s.
Available With or Without Presenter.
The Star TUP900 is Ideal for the Following Industries:
Unattended Public Operation
Ticketing.
Gaming.
Lottery.
Web Kiosks.
The Star TUP900 comes with a 2-Year Limited Warranty, Plus Optional Extended Services Agreement Policies (Extend-A-Star and Swap-A-Star).