Star TUP500 Kiosk Printers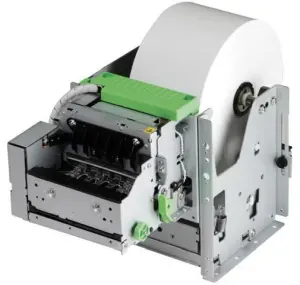 Manufacturer

Compact, High-Speed Kiosk Printer.
Print Method - Direct Thermal Printing.
Print Speed - up to 8.66 inches per second.
Paper Width - from to 1.77 in. to 3.24 in.
Swappable Communication Interfaces.
Warranty - 2 Year Limited Manufacturer Warranty.
All Options
Accessories
Specs
Star TUP500 Description
After the success of the industry-leading Star TUP900 wide format open frame printer, Star Micronics is proud to introduce the new Star TUP500 kiosk printer. With a more compact footprint and support for smaller paper widths, the TUP500 is a welcomed addition to Star Micronics' kiosk printer line to provide solutions for an even greater range of applications.
The Star TUP500 features an industry leading print speed of up to 220mm/s and higher reliability at an MCBF of 60 million lines.
The innovative looping presenter on the TUP500 prevents paper jams by printing the receipt in full before providing it to the user. The presenter also uses Star Micronics' document capture technology to retract receipts left by the user, resulting in increased document security and a cleaner operation area.
Additional Strengths and Advantages of the Star TUP500:
Modular Design for Easy Integration.
Adjustable Paper Width from 45mm-82.5mm.
High Speed: Up to 220mm/sec.
High Performance Presenter Model (TUP592).
Available Without Presenter (TUP542).
A brand new innovative bezel (snout) option can be directly attached to the TUP500 presenter to capture the user's attention with programmable 2-color (red and green) flashing LED lights.
The Star TUP500 features adjustable print widths of 45mm-82.5mm documents. With the addition of the optional large paper roll accessory, it supports up to a 10 inch paper roll for many hours of unattended operation.
The Star TUP500 kiosk printer is ideal for a wide range of applications including public information kiosks, gaming, lottery, web kiosks, and much more!
The Star TUP500 comes with a 2-Year Limited Warranty, Plus Optional Extended Services Agreement Policies (Extend-A-Star and Swap-A-Star).