Datalogic Skorpio X4 Mobile Computers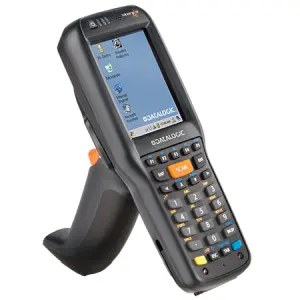 Manufacturer

Industrial Strength, High Performance Hand Held Mobile Computer.
Scan Techniques - 1D & 1D/2D Imager options.
Wireless Communication - 802.11a/b/g/n with Cisco Security.
Wireless PAN Data - Bluetooth Wireless v4 with BLE & v2.1 with EDR options.
Operating System - Android v4.4 & Windows Embedded Compact 7 options.
Warranty - 12-month manufacturer's warranty against defects.
Datalogic Skorpio X4 Mobile Computers - Options
Datalogic Skorpio X4 Description
The Datalogic Skorpio X4 mobile computer features a high performance multicore 1 GHz architecture that offers blazing speed when running Windows Embedded Compact OS and allows easy upgradeability to the Android OS. Users will never run out of memory with the standard 1 GB RAM and 8 GB Flash.

The Skorpio X4 is equipped with the largest high-visibility 3.2 inch color display touch screen in its class, the Skorpio X4 mobile computer helps users work more efficiently.

Three different Skorpio X4 keyboards are available for maximum efficiency: a 50-key alphanumeric keypad, a 38-key functional keypad and a 28-key numeric keypad.

Additional Strengths and Advantages of the Datalogic Skorpio X4: Large high visibility color display with touch screen

Choice of 1D or 2D imagers featuring.
Datalogic's patented 'Green Spot' technology for good-read feedback.
Wide Band Audio for improved speech recognition (Android only).
Choice of Microsoft Windows Embedded Compact 7 or Android v4.4 operating systems.
TI 802.11 a/b/g/n radio with CCX v4 and featuring MIMO antenna technology.
Bluetooth wireless technology v4.0 with BLE (low energy) on Android models.
6.0 ft drop resistance.
IP64 protection class.
WEC7 units include: Wavelink Avalanche pre-installed and pre-licensed; Wavelink TelnetCE pre-installed and prelicensed on Pistol Grip units; Pal pre-installed.
Upgradable to Android 4.4.
Attachable handle (and orderable pre-installed).
EASEOFCARE Service Plans offer a wide range of service options to protect your investment, ensuring maximum productivity and ROI.
This rugged Datalogic Skorpio X4 mobile computer is particularly suitable for mobile commerce solutions in the retail environment both in-store and back-end receiving applications. With the best ergonomics on the market, the Skorpio X4 mobile computer reduces operator fatigue with no compromise in terms of reliability and robustness, resisting harsh environments, multiple drops, strong shocks and repetitive tumbles.

The Skorpio X4 pistol-grip model has the most durable and comfortable handle in the industry.

The Datalogic Skorpio X4 mobile computer's wireless communication capabilities (802.11 a/b/g/n) enables speedy transmission of data, while Bluetooth wireless technology v4 provides support for the new low energy mode (BLE). The new MIMO antennas provide extended coverage.

The Datalogic Skorpio X4 comes with a 1-Year Factory Warranty and has additional extended warranty options.