Trimble Nomad 900LE Mobile Computers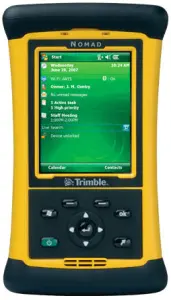 Manufacturer

The Trimble Nomad 900LE has been Discontinued and Upgraded to the Trimble Nomad 1050LE.
Outdoor, Ruggedized Handheld Computer.
Operating System - Windows Mobile 6.1 Professional & Classic Options..
Integrated GPS - SiRFstarIII, WAAS / SBAS capable, SiRFInstantFixII capability.
Wireless Communication - Integrated 802.11 b/g & Bluetooth 2.1 Class 2 options.
WWAN Communication - Integrated Quad-band GSM GPRS/EDGE options.
Integrated 1D Laser Bar Code Scanner & Camera options.
Withstands 26 drops from 4ft. onto plywood over concrete.
Warranty - 12-month manufacturer's warranty against defects with Extended Warranty options.
Trimble Nomad 900LE Mobile Computers - Options
Trimble Nomad 900LE Description
The Trimble Nomad 900LE series packs even more functionality into one of the most powerful and full-featured rugged handheld computers available. Standard features include an 806 MHz processor, a long-life lithium-ion battery, 512MB to 2GB of Flash storage and integrated wireless capabilities like GPS, Wi-Fi and Bluetooth.

The high-resolution, sunlightvisible VGA display shows images, maps and data in crisp detail. Optional features include an integrated cellular WWAN, laser barcode scanner and a 5MP color digital camera.

The Nomad 900LE computer also includes the latest Windows Mobile 6.1 software, so it runs all the applications you use most, including a wide range of third-party software for industry specific applications.

The Nomad 900LE computer's many built in capabilities make it easy to collect, save and transmit data in the field. The integrated SiRFstarIII GPS receiver with SiRFInstantFixII technology enables position acquisition in less time and in challenging environments such as in canyons, under heavy canopy and even inside buildings.

Quickly track your assets with the integrated 1D laser barcode scanner and upload changes from the field. The 5 megapixel camera and geotag-enabled software can capture high-resolution, full color images for inspection, maintenance and repair applications. With geotagging enabled, your photos will have precise locations stored in EXIF and/or overlaid on the image.

Choose your Trimble Nomad 900LE and when it arrives select from ten operating system languages at initial start-up. All models come with a Secure Digital (SD/SDHC) slot. Depending on the model, even more capabilities can be added via a CompactFlash (CF Type II) slot.

Like other Trimble rugged handhelds, the Nomad 900LE computer meets rigorous MIL-STD-810F military standards for impact, vibration, humidity, altitude and extreme temperatures. It also comes with an IP68 rating. That means the Nomad 900LE handheld is completely sealed against dust, and it can survive immersion in up to a meter of water for 240 minutes.

Trimble Nomad 900LE rugged handhelds have proven their reliability and lower Total Cost of Ownership (TCO) over consumer grade handhelds in the field with thousands of real world users.

The Marvell 806 MHz processor, when combined with Trimble's optimized graphics processing, advanced caching, and proprietary high-speed journaling file system, makes the next generation Trimble Nomad 900LE series one of the fastest Windows Mobile handheld computers on the market today. Tuned to maximize the integrated GPS receiver's performance, the next generation Nomad 900LE also has an improved antenna design which significantly improves Time-to-First-Fix (TTFF) and fix under thick canopy.