Motorola MC67 Mobile Computers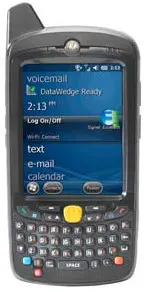 Manufacturer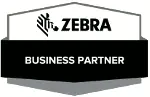 Powerful, hand-held mobile computer with 1D & 2D barcode scanning capabilities.
Scan Techniques - Area Scanner options for 1D & 2D barcode scanning.Wireless Communication - Tri-mode IEEE 802.11a/b/g/n; Push-to-Talk (PTT) ready; VoIP ready .
Wireless PAN Data - Bluetooth Class II, v2.1 with Enhanced Data Rate (EDR).
Operating System - Choice of Windows Embedded Handheld 6.5 Professional or Android 4.1.
Memory - WEHH: 512 MB RAM/2 GB Flash or 1GB RAM/8 GB Flash; Android: 1 GB RAM/8 GB Flash.
Withstands multiple 8 ft. to concrete.
Warranty - 12-month manufacturer's warranty against defects.
Motorola MC67 Mobile Computers - Options
Motorola MC67 Description
The Motorola MC67 fully-featured rugged mobile computer provides your field workforce with everything they need to get the job done right - and on time. This fully-featured powerhouse of a device lets your workers complete work orders, place orders and more, all in real time, improving customer service and workforce productivity.

With the dual wireless WAN modem in the Motorola MC67, you can choose the cellular network that will provide each worker with the best coverage - 4G GSM or 3.5G CDMA* - or both. The software configurable cellular radios can be activated and reactivated on different networks on the fly - without the hassle of returning the device to a service depot.

Additional Strengths and Advantages of the Motorola MC67:
Flexible high-speed cellular connections : Deploy and re-deploy on-the-fly on 4G HSPA+ and/or 3.5G CDMA EVDO rev A* cellular networks.
Our most rugged compact mobile computer: Whatever your employees dish out, the Motorola MC67 can take it. You can drop it on concrete, drop it in water, use it in the heat, cold, rain, snow and more.
High-speed WiFi: 802.11a/b/g/n provides outstanding application performance when connected to the Wi-Fi office network or hot spots.
Best-in-class GPS: Provides workers with dependable access to location-based applications, even in challenging areas.
A brilliant display for easy reading: The pentile screen delivers twice the brightness at half the power of typical displays, providing excellent readability even in bright sunlight.
Advanced scanning technology: No matter what type of barcode your workers need to scan, the Motorola MC67 can capture it. Scan 1D and 2D barcodes at laser speed - even if the codes are dirty, damaged or poorly printed. three scanning options let you choose the scan engine that provides the best performance on the types of barcodes you use.
The power you need to support complex applications: A dual core 1 GHz processor and 8 GB of Flash memory lets workers enjoy best-in-class performance with plenty of room for multiple apps, photos, databases and more.
Crystal clear voice: With Dual-Microphone Noise Cancellation technology, background noise is greatly reduced - all anyone will ever hear is you.
Need to capture documents? no problem!: Our state-of-the-art document capture software and the high-resolution camera make it a snap to capture documents with legible fine print.
Capture rich photographic intelligence: A picture is worth a thousand words, so we included a high-resolution auto-focus 8 MP camera with external flash that allows workers to document the condition of deliveries, assets and more in virtually all lighting conditions.
A device with the intelligence to manage itself: Integrated sensors enable the Motorola MC67 to automatically power down when the device is face down or doesn't move for a preset period of time and adjust screen brightness based on lighting.If workers travel through large territories with areas best served by different networks, you can activate plans on both GSM and CDMA networks - users can simply toggle between networks as needed to obtain seamless coverage throughout the day. And you can easily re-deploy units wherever they are needed, regardless of which network best serves that area. The result? The seamless cellular connection your workers need to maximize efficiency. Simpler device management and a maximum return on asset (ROA) for your business. And happier, more satisfied customers.