Datamax M-4308 Mark II Barcode Printers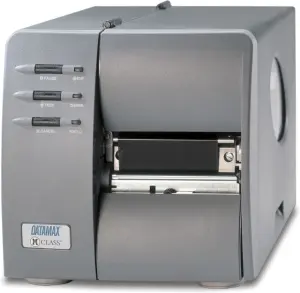 Manufacturer

M-Class: Industrial Strength, Cost-Effective bar code printer.
Print Method - Thermal Transfer and/or Direct Thermal options.
Print Resolution - 300 dots per inch(dpi) options.
Print Speed - up to 8 inches per second(ips).
Print Width - up to 4.25 in. wide.
Memory - 16MB SDRAM & 8MB Flash.
Warranty - 12-month warranty with extended-warranty options.
Datamax M-4308 Mark II Barcode Printers - Options
Datamax M-4308 Mark II Description
The Datamax M-4308 Mark II is a compact, industrial printer that offers outstanding value with a broad range of features. The smaller footprint is ideal for users who need the power of industrial printers but must consider space limitations.

The M-4308 Mark II is a perfect solution for warehouse, healthcare, logistics or retail applications. The modular design of the M-4308 Mark II makes maintenance and part replacement easy, and the flexible design allows a variety of options to be upgraded in the field.

Additional Benefits and Strengths of the Datamax M-4308 Mark II:



Increased productivity: M-4308 Mark II keeps up with high label demand applications, boasting 32% faster performance than the nearest competitor in its class. The modular design and field-installable options cut back on downtime and improve efficiency. With its unique form factor, the M-4308 Mark II fits easily in tight spaces where work space is a premium.
One printer does it all: The M-4308 Mark II printer can be used in a wide variety of applications with a range of media compatibility, connectivity, emulation support, and options including RFID support. It is easy on the budget with the best value proposition for an industrial strength printer.
Integrate easily into existing applications: Our language emulation programs allow users to seamlessly replace Zebra and Intermec printers.
Reduce set-up time: DMXconfig - Set-up utility, DMXNetmanager - Remote management, IntelliSEAQ - Built-in print head reporting Firmware.
Connectivity for all environments: Optional Ethernet-wired LAN 10/100, wireless 802.11 b/g or USB host.
The Datamax M-4308 Mark II reduces the total cost of ownership with easy to maintain components. It offers a broad range of connectivity to meet diverse application requirements and easily integrate into any network. With an easy to navigate LCD graphics display for menu and printer function control, it is designed for any level of user. Support of UHF or HF RFID configurations for current or future requirements protects your printer investments.

The high quality features, performance, and rugged reliability make the Datamax M-4308 Mark II the best value of any printer on the market.