Honeywell MS9540 Barcode Scanners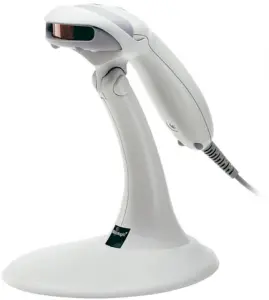 Manufacturer

High-performance, Point of Sale hand-held bar code scanner.
Scan Techniques - Single-line, laser scanning.
Scan Rate - up to 72 scans per second
Scan Range - from contact to 8 inches.
Withstands multiple 5' drops to concrete.
Warranty - against defects for a period of 5 years.
Honeywell MS9540 Barcode Scanners - Options
Honeywell MS9540 Description
The Honeywell MS9540 Scanners are auto-trigger, single-line laser barcode scanners designed for decoding all standard 1D barcodes, including RSS codes.

Including the MS9540 Voyager's sleek design, additional performance enhancements include:
Decodes all standard 1D, RSS-14, RSS Limited, and RSS expanded barcodes.
Automatic trigger.
User-replaceable, single cable interface to host.Thanks to Honeywell's commitment to affordable, reliable and high-performance data capture and collection hardware, there is a member of the Voyager family perfect for your retail point-of-sale, light warehousing or healthcare application. And,with features like our proprietary CodeGate technology for ultimate control, automatic in-stand scanning, all-inclusive kits, bumper-to-cable warranty and easy-on-your-walletprices, its no wonder so many companies have made the switch to Honeywell MS9540.