Honeywell Dolphin 6500 Mobile Computers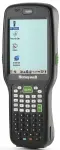 Manufacturer

Lightweight, versatile hand held mobile computer.
Scan Techniques - Area Imager for 1D & 2D barcodes, or laser for 1D barcode scanning capabilities.
Wireless Communication - Dual Mode 802.11 b/g (11 Mbps/54 Mbps) with internal antenna.
Wireless PAN Data - Bluetooth Class II (10 m) v2.0 Enhanced Data Rate (EDR) with on-board antenna. BQB certified.
Operating System - Microsoft Windows CE 5.0 & Windows Embedded Handheld 6.5 options.
Warranty - 12-month manufacturer's warranty against defects.
Honeywell Dolphin 6500 Description
The Honeywell Dolphin 6500 is a lightweight and versatile mobile computer that provides advanced data collection and real-time wireless communication for in-premise applications in retail, supply chain and light-industrial environments.

Integrated 802.11b/g wireless connectivity provides users with access to critical data throughout the enterprise, while Bluetooth connectivity facilitates efficient wireless connection to peripheral devices. Advanced security protocols ensure data accuracy and security.

Its ergonomic form factor features a tapered keypad that fits easily in any user's hand. A large, color touch screen display allows users to see more of an application on a single screen, enhancing user experience for touch screen based graphical applications. Multiple keypad options - 28-key numeric and 52-key full alphanumeric - are available to meet application requirements and user preference.

Built to withstand harsh conditions, the IP54-rated Dolphin 6500 can endure exposure to dust, dirt and splashing water, as well as accidental drops from distances as high as 1.2 meters. The reliable Dolphin 6500 even sustains up to 500 tumbles from 1 meter.

Additional strengths and advantages of the Honeywell Dolphin 6500:


Designed for diverse application needs: Large, color touch screen display and multiple keypad options offer easy, flexible solutions to meet key- or graphics-based data entry requirements .
Real-Time Wireless Communication: Advanced integrated 802.11b/g and Bluetooth technology delivers real-time network access to critical information and supports advanced wireless security standards.
Microsoft Windows CE 5.0 with PXA300 Processor: Combines a new, class-leading microprocessor with a powerful, familiar and easy-to-use platform.Shift-PLUS power management technology ensures 10 or more hours of continuous use, eliminating the need to replace the battery during a single shift.

Powered by Adaptus Imaging Technology 5.0, the 6500 delivers the broadest suite of advanced data capture capabilities, including linear and 2D barcode scanning, digital image capture, and intelligent signature capture, allowing users to increase efficiency and improve customer service.

The Honeywell Dolphin 6500 offers an optimal blend of performance and reliability, delivering a rapid return on investment for mobile workers operating within-the-four-walls.