Wasp WWS800 Barcode Scanners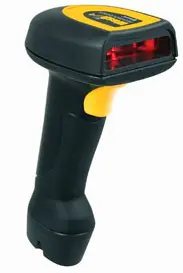 Manufacturer

Bluetooth, economical 1D CCD barcode imager.
Scans 1D barcodes from 1 inch up to 12 inches away.
Bluetooth Range - 160 feet from PC, with line-of-sight visibility.
Memory - Batch memory should you be out of range.
Scan Speed - 100 scans per second.
Warranty - Manufacturer warranty against defects for up to 2 years.
Wasp WWS800 Description
The Wasp WWS800 and WWS850 cordless barcode scanners give you the freedom to roam, without the tangle of cords. Collect information on-the-go in warehouse, factory, field service, healthcare, and retail environments.

Wireless technology allows you to transmit barcode data up to 160 feet away from your laptop or PC with line-of-sight visibility. Scanned data is instantly and accurately added into your open document, spreadsheet, or database, without time-consuming manual data entry.

Durable construction protects the Wasp WWS800 and WWS850 scanners from breakage, even after multiple 6-foot drops to concrete. The Wasp WWS850 offers an integrated laser scan engine for flexible scan range, making it simple to read barcodes up to 25 inches away. The Wasp WWS800 features a CCD long range scan engine for the ability to read barcodes up to 12 inches away.

The complete scanner kit includes a Wasp WWS800 or WWS850 cordless barcode scanner, Wireless radio/recharge base with cable and power supply.

Additional Advantages & Strengths of the Wasp WWS800


Cordless technology
Transmit data up to 160 feet from base station (line of sight)
Scan barcodes up to 25 inches away with the Wasp WWS850 scanner
Scan barcodes up to 12 inches away with the Wasp WWS800 scanner
Durable ABS plastic construction
Use up to 7 scanners with a single base station
Compatible with optional hands-free standBenefits of the Wasp WWS800


Improve efficiency by scanning barcode tags where items are located in the warehouse or in the field
Durable construction stands up to tough, industrial environments
Lightweight, ergonomic design is comfortable for prolonged use
Read all common 1D barcodes, including UPC, Code 38, and Code 128
Automatically scan barcodes using the optional Autosense standThe Wasp WWS800 also comes with a Two-Year manufacturer warranty.