Datalogic PowerScan PBT9300 Barcode Scanners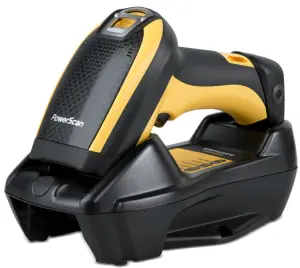 Manufacturer

Bluetooth, 1D barcode industrial scanner.
Scan Techniques - Aggressive laser scanning.
Bluetooth Radio Range - up to 328 feet.
Bluetooth Specs - Bluetooth 3.0 Certified Class 1.
Scan Range
- Standard Range: from 0.4 to 63 inches based upon MIL type & size.
- Auto Range: from 3.5 to 165.4 inches based upon MIL type & size.
Warranty - Manufacturer warranty against defects for up to 3 years.
Datalogic PowerScan PBT9300 Barcode Scanners - Options

All Options
Accessories
Specs

Datalogic PowerScan PBT9300 Description

The Datalogic PowerScan PBT9300 barcode readers are the ultimate industrial handheld devices, designed and constructed to withstand the toughest environmental conditions in demanding applications, offering lasting performance and outstanding reliability combined with exceptional reading performance and accuracy. The PowerScan PBT9300 laser scanner features standard Bluetooth wireless technology combined with the outstanding reliability and reading performance found in all PowerScan products.

The PowerScan PBT9300 based on Bluetooth 3.0 standard wireless technology, Class 1 Range (in open air); up to 328 ft. Connectivity is implemented through the receiving base station, which communicates to the host through a choice of interfaces (Serial, USB or Keyboard Wedge) or by connecting the PowerScan PBT9300 scanner directly to any commercial or embedded Bluetooth compliant device, or via Ethernet by using the BC9180-BT base/charger using Standard Ethernet and Industrial Ethernet protocols (Ethernet IP and Modbus).

Additional Strengths and Advantages of the Datalogic PowerScan PBT9300:

Bluetooth 3.0 Class 1 compliant.
Supports Bluetooth wireless technology SPP and HID profiles.
Piconet with up to 7 scanners connected to the same base station.
Ethernet Connectivity (Standard and Industrial).
Optics are available in:.
Standard Range: contact up to 5.2 ft.
Auto Range: up to 37.0 ft on reflective codes.
Datalogic 3GL and loud beeper for good-read feedback.
User replaceable Lithium-Ion battery.
Operates over a wide range of temperatures.
Water and Particulate Sealing Rating: IP65.
Drop resistance to 6.5 ft.
EASEOFCARE Service Plans offer a wide range of service options to protect your investment, ensuring maximum productivity and ROI.
The Datalogic PowerScan PBT9300 scanner mounted on a forklift with a Vehicle Mount Terminal (VMT) provides an excellent solution for warehouse applications.

The PowerScan PBT9300 laser scanner is available in two different optics: Standard Range (SR) or Auto Range (AR) for reading distances up to 37.0 ft on reflective codes.

Lastly, the Datalogic PowerScan PBT9300 comes with a 3-Year Factory Warranty!