Datalogic PowerScan 7000 2D Barcode Scanners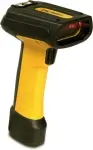 Manufacturer

The Datalogic PowerScan 7000 2D has been Discontinued and Upgraded to the Datalogic PowerScan PD9500.
Industrial, Rugged & Durable 2D bar code imager.
Scan Techniques - Aggressive Linear Imaging.
Scan Range
- Standard Range: from 1 inches to 12.2 inches.
- High Density Range: from 1 foot to 7.9 foot.

Withstands multiple 6.5' drops to concrete.
Warranty - Against defects for up to 5 years.
All Options
Accessories
Specs
Datalogic PowerScan 7000 2D Description
The Datalogic PowerScan 7000 2D product series are Datalogic Scanning's value line of rugged industrial handheld data collection products. The PowerScan 7000 2D linear imaging corded reader is ideal for commercial and industrial applications that need to read mixed symbologies under tough environmental conditions.

The PowerScan 7000 2D reader supports decoding for standard 1D barcodes, stacked 2D labels such as PDF417, MicroPDF and composites, and matrix 2D labels such as Data Matrix, MaxiCode and QR code, as well as postal codes and OCR fonts. It is also able to capture signatures or images of objects such as shipping damage documentation.

Lightweight, balanced and ergonomic; it allows comfortable handheld use over extended periods of time. Featuring fast omnidirectional scanning and a large depth of field it speeds scanning operations while minimizing motions required to get the scanner in a reading orientation to the labels, whether in a handheld or hands free application.

Additional Features and Advantages of the Datalogic PowerScan 7000 2D:
Optics available in Standard Range and High Density.
High resolution VGA Plus image capture for multiple uses, including signature capture.
Decodes 1D, 2D and stacked codes, plus postal codes and OCR fonts.
Bright aiming illumination to ensure fast, reliable scanning in diverse lighting conditions.
Water and particulate sealing rating: IP65.
Drop resistance to 2.0 m / 6.5 ft.
Operates over a wide range of temperatures.
25kV Electrostatic protection (air discharge).As with all PowerScan products, the Datalogic PowerScan 7000 2D reader's mechanics have been developed and tested to withstand extreme environmental conditions while maintaining consistent reading performance. An over mold covers all of the likely drop contact points on the scanner enclosure adding extra degrees of shock protection so that the reader can withstand 50 drops from 2.0 m / 6.5 ft to concrete without breakage or loss of performance. The loud beeper and bright aiming illumination provide intuitive good read feedback in noisy environments. A built-in metal tether hook for suspended applications ensures workplace productivity.