Motorola LS3578-FZ Barcode Scanners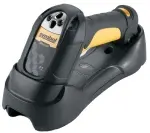 Manufacturer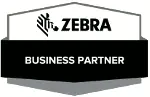 Fuzzy Logic, Bluetooth cordless bar code scanners.
Scan Techniques - Laser, retrocollective scanning.
Bluetooth Radio Range - up to 150 foot radius.
Bluetooth Specs - Class 2, Version 1.2, Serial port and HID Profiles.
Scan Rate - 36 scans per second.
Scan Range - from 4 inches to 45 feet.
Withstands multiple 6.5' drops to concrete.
Warranty - Against defects for up to 3 years.
Motorola LS3578-FZ Description
The Symbol LS3578-FZ cordless scanner provides fuzzy logic technology, enabling you to rapidly and accurately read damaged, dirty and poorly printed one-dimensional (1D) barcodes often found in industrial environments. In the yard, warehouse, distribution center, manufacturing plant or retail store, the Symbol LS3578-FZ offers superior performance and reliability as well as a user-friendly form factor that helps ensure comfortable use over long shifts.

Plus, integrated Bluetooth provides reliable and secure wireless data transmission between the scanner and host, including Motorola's rugged VC5090 Vehicle-Fixed Mount Mobile Computer.

Added Benefits of the Symbol LS3578-FZ


Accurately scan damaged or poorly printed barcodes.
Cordless freedom for improved productivity.
Rugged design to maximize uptime.
Low total cost of ownership (TCO).With no cord between the scanner and host, employees can move freely throughout their work environment, increasing productivity and efficiency while keeping supply chain inventory up to date at all times. Plus, having no cord reduces downtime from cable breakdowns -- a common point of failure in handheld devices used in industrial facilities.

As rugged as it is innovative, the Symbol LS3578-FZ is designed for scan-intensive industrial applications in the harshest operating conditions. Industry leading impact tests ensure reliable performance in spite of the inevitable accidental drops. The device is impervious to dust and water, and its exit window is scratch-resistant and recessed for the highest level of durability. As a result, you avoid unnecessary equipment downtime or expensive equipment replacement costs.

In addition to enhancing productivity, the Motorola LS3578-FZ offers a low total cost of ownership. The industrial-strength construction maximizes the scanner's working life, and multiple on-board interfaces provide true plug-and-play simplicity with your host system today and tomorrow.

Support for Remote Scanner Management (RSM) enables you to discover, provision and upgrade devices from a central remote location, dramatically reducing management time and costs. And since even the most rugged devices require a support plan, a full complement of Enterprise Mobility Services are available to help you protect your investment and maintain peak performance.