Honeywell MS9535 Barcode Scanners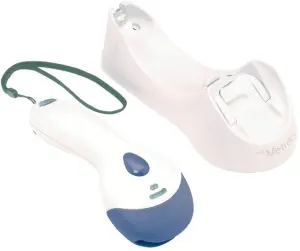 Manufacturer

The Honeywell MS9535 is discontinued & its direct replacement is the Honeywell Voyager 1202g.
Lightweight & Cordless, Bluetooth bar code scanner.
Scan Techniques - Single-line, laser scanning.
Bluetooth Range - up to 33 feet from host.
Scan Range - contact to 8 inches.
Scan Rate - up to 72 scans per second.
Withstands multiple 5' drops to concrete.
Warranty - against defects for a period of 2 years.
Honeywell MS9535 Barcode Scanners - Options
Honeywell MS9535 Description
The Honeywell MS9535 VoyagerBT Scanners are wireless, laser barcode scanner designed for decoding all standard 1D, RSS-14, RSS Limited, and RSS expanded barcodes.

Including the MS9535 VoyagerBT's lightweight, comfortable design, additional performance enhancements include:
Cable-free scanning using Bluetooth technology.
Recharging base station with in base scanning.
Up to 12,000 scans per charge.
Up to 33 foot working range.
Wall or countertop mounting.Thanks to Honeywell's commitment to affordable, reliable and high-performance data capture and collection hardware, there is a member of the Voyager family perfect for your retail point-of-sale, light warehousing or healthcare application. And,with features like our proprietary CodeGate technology for ultimate control, automatic in-stand scanning, all-inclusive kits, bumper-to-cable warranty and easy-on-your-walletprices, its no wonder so many companies have made the switch to Honeywell MS9535.