Honeywell 4820 Barcode Scanners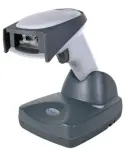 Manufacturer

2D Cordless, Bluetooth, hand-held bar code imager.
Scan Techniques - Linear, Stacked & 2D Imaging scanning.
Cordless Communication - Bluetooth v 1.2
Bluetooth Range - up to 33 ft. from base station.
Scan Range - from 1.3 in. to 12.7 in.
Warranty - 3-year factory warranty.
Honeywell 4820 Barcode Scanners - Options
Honeywell 4820 Description
The Honeywell 4820 wireless area-imager is designed to provide the unmatched data collection versatility of 2D imaging for a wide variety of light-industrial applications, with the convenience and freedom of Bluetoothwireless connectivity.

Additional Strengths & Advantages of the Honeywell 4820:


Solid state, no-moving-parts design withstands over 50 drops to concrete from 6'(1.8 m), while still being ergonomic and easy to use.
Adaptus Imaging Technology 5.0 provides aggressive, omnidirectional reading of all linear and 2D barcodes, plus enables digital image capture.
Bluetooth v2.0 radio enables movement up to 33' (10 m) from the base, and reduces interference with other wireless systems. Up to 7 imagers can communicate to 1 base, reducing the total cost of ownership.
Enhances performance and ease of use by delivering snappier scanning and minimizing reflection from shiny items.
Powers up to 50,000 scans per full charge ensuring maximum uptime.
Visual Xpress software enables device programming and configuration on a host system through an easy-to-use Windows-based graphical user interface.Powered by Adaptus Imaging Technology 5.0, the Honeywell 4820 delivers high-performance omnidirectional linear, stacked and 2D barcode reading, plus the versatility of digital image capture capability. With Adaptus 5.0, enterprises have the ability to capture and process more data than ever before with a single device.

Designed for scan-intensive applications that require freedom of movement for the operator, the Honeywell 4820 enables use up to 33' (10 m) away from the base, and eliminates the hazards or hassles that can be presented by cables in fast-paced environments.

Built to ensure longevity and reliability in light-industrial applications, the Honeywell 4820 features a solid-state design and a 6' (1.8 m) drop specification.

The Honeywell 4820 also comes with a Three-Year manufacturer warranty.