Datalogic Gryphon I GPS4400 2D Barcode Scanners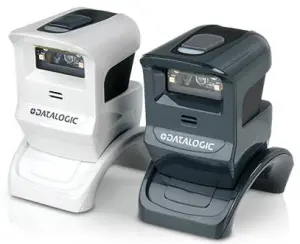 Manufacturer

On-counter, Omni-directional Presentation Barcode Scanner.
Scan Techniques - Omnidirectional 1D & 2D Barcode Scanning Capabilities.
Image Capture - 752 X 480 Pixels.
Scan Range - From 0 in. up to 16.6 in. Depending Upon MIL Size.
Hands-Free scanning with stand option.
Withstands repeated drops at 4 feet to concrete.
Warranty - Manufacturer warranty against defects for a period of 3 years.
All Options
Ready-to-Go Kits
Accessories
Specs
Datalogic Gryphon I GPS4400 2D Description
The Datalogic Gryphon I GPS4400 2D on-counter, omnidirectional presentation scanner offers hands-free scanning of small, easily handled items and handheld scanning operation for bulkier items. The reader's compact size makes it the ideal solution for space-constrained environments. Its adjustable stand positions the scanner for easy, intuitive reading. The stand can easily be removed if it is not needed, further reducing the overall dimensions of the scanner.

Strengths & Advantages of the Datalogic Gryphon I GPS4400 2D:


Snappy omnidirectional reading.
Intuitive aiming system.
Compact, ergonomic design is ideal for hands-free or handheld operation.
Illumination system optimized to allow easy reading of barcodes from mobile phones, laptops or PDAs.
Image capture.
Available interfaces: RS-232 or USB (USB-HID or USB COM).
Adjustable stand.
EASEOFCARE Service Plans offer a wide range of service options to protect your investment, ensuring maximum productivity and ROI.Capable of reading codes from mobile phones, PDAs and computer display screens, the Datalogic Gryphon I GPS4400 2D presentation scanner additionally features outstanding near-field reading, a wide angle field-of-view, high motion tolerance, snappy reading and offers excellent performance on decoding poor or damaged barcodes. As with all Datalogic Gryphon products, it offers good-read visual confirmation with Datalogic's patented 'Green Spot' technology as well as supporting advanced features like image / signature capture and document scanning, eliminating the need for separate equipment at the POS.

Aggressive imaging performance and simple operation reduces the need for training and speeds the checkout process for better customer service. The precise reading area of the Datalogic Gryphon I GPS4400 2D scanner helps to reduce accidental misreads of items - improving productivity and customer satisfaction. Additionally, it has several modes that can be used as a trigger. It can automatically sense objects and trigger itself, or a continuous scan mode captures data whenever a barcode passes into its field-of-view. The reader can also be triggered remotely through software commands.

The Datalogic Gryphon I GPS4400 2D also comes with a Three-Year manufacturer warranty.