Datalogic Gryphon I GD4520 Barcode Scanners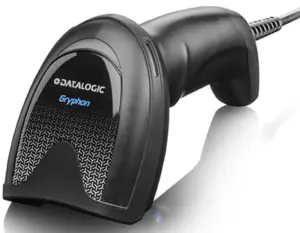 Manufacturer

1D & 2D, Corded barcode Scanner.
Scan Techniques - Omnidirectional, linear imaging.
Reads 1D, 2D and Postal Codes, Stacked and Composite Codes.
Scan Range - up to 27.9 inches (determined by symbol length and scan angle.)
Withstands multiple 5.9ft. drops to concrete.
Warranty - 5-Year Factory Warranty against defects.
The Datalogic Gryphon I GD4520 is a versatile handheld scanner designed for general-purpose use. It features Datalogic's patented 'Green Spot' technology for accurate scanning feedback. The GD4520 supports both 1D and 2D barcodes and offers excellent performance, with a fast reading speed and high resolution. Its ergonomic design provides comfortable use, and the scanner is also durable, able to withstand drops and impacts.
All Options
Ready-to-Go Kits
Accessories
Specs
Datalogic Gryphon I GD4520 Description
The Datalogic Gryphon Gryphon I GD4520 represents the premium range of hand held scanners from Datalogic for general purpose applications.
Designed with people in mind, the Gryphon I GD4520 imager stands out with an elegant and trendy design, unchallenged ergonomics and features the most advanced Megapixel sensor with white-illumination 2D technology for outstanding performance.
Perfect for both hand held and presentation reading, the Datalogic Gryphon I GD4520 imager exploits Datalogic's Motionix motion-sensing technology which detects the natural actions of the operator to automatically switch the scanner into the desired scanning mode. This technology works with or without the use of a stand, offering more operational choices. Both the aimer and sensor can be programmed to the user's desired preferences.
Additional Strengths and Advantages of the Gryphon I GD4520:
1 MP optics for superior scanning and Depth Of Field.
Datalogic distinctive technology with highly visible white-illumination and 4-Dot aimer with center cross for targeted scanning.
Datalogic's patented 'Green Spot' technology and exclusive 3GL (3 Green Lights) for superior good-read feedback.
Motionix motion-sensing technology for seamless reading mode transitions.
Omnidirectional reading.
Advanced motion tolerance optics.
Image capture and document scanning capabilities.
Reads 1D, 2D, postal codes, stacked and composite barcodes and dot codes.
Digital Watermarking and DPM reading on specific models/applications.
Multi-interface options: USB-only or multi-interface RS-232 / USB / Keyboard Wedge.
EASEOFCARE Service Plans offer a wide range of service options to protect your investment, ensuring maximum productivity and ROI.
Datalogic Gryphon I GD4520 distinctive reading technology with highly visible white illumination is easier on the human eyes and reads colored labels better. The highly visible 4-Dot aimer defines a precise reading zone and reduces accidental reads, while the aimer's center cross provides a locator for targeted scanning in a multiple barcode environment.
The Gryphon I GD4520 omnidirectional imager provides snappy reading performance on all common 1D and 2D codes as well as postal, stacked and composite codes like PDF417. High Density (HD) models are also available for reading smaller, condensed codes. A dedicated version with red illumination optics reads Digital Watermarking.
The Datlogic Gryphon I GD4520 Imager comes with a manufacturer's 5-Year Warranty against defects.