Datalogic Gryphon I GBT4102-HC Barcode Scanners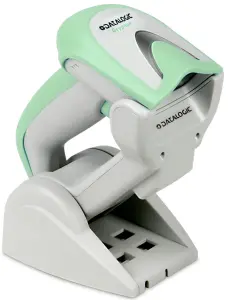 Manufacturer

Health-Care, 1D Bluetooth barcode scanners.
Disinfectant-Ready Enclosure Treated with Anti-Microbial Additives.
Scan Techniques - Omnidirectional, linear imaging.
Bluetooth Radio Range - up to 98.4 ft. Radio Range.
Bluetooth Specs - Bluetooth 3.0 with BLE Certified Class 2.
Scan Range - 0.8 inches up to 31.2 inches (determined by symbol length and scan angle.)
Warranty - against defects for a period of 3 years.
All Options
Accessories
Specs
Datalogic Gryphon I GBT4102-HC Description
The Gryphon I GBT4102-HC product series is specifically developed for healthcare applications with Disinfectant Ready enclosures treated with anti-microbial additives and are designed to withstand daily cleaning with harsh disinfectant solutions. The key mission of scanners in the healthcare industry is to improve the quality of patient care while reducing medication errors. Additionally, healthcare environments have requirements that scanners need to be regularly cleaned and disinfected.
Datalogic Gryphon I GBT4102-HC readers provide unmatched flexibility offering healthcare professionals the complete suite of reading and radio technologies available within the Gryphon series. From corded models to standard Bluetooth wireless technology or to the powerful Datalogic STAR narrow-band radio, Gryphon HC readers offer customers the widest variety of products and radio choices with disinfectant-ready enclosures.
Additional Strengths and Advantages of the Datalogic Gryphon I GBT4102-HC:
Disinfectant-Ready enclosures treated with anti-microbial additives.
Extremely snappy reading performance.
Extended reading distances.
Wide scan angle for wider codes.
Multi-interface solution supports most popular interfaces.
Water and Particulate Sealing Rating: IP52.
Drop resistance to 5.9 ft.
Datalogic's patented 'Green Spot' for good-read feedback.
In healthcare environments where mobility is not needed, the GM4132-HC reader offers an affordable corded solution, while the GM4102-HC or GBT4102-HC models (STAR or Bluetooth) provide full installation flexibility and extended mobility for cordless operations. A patented 2-position cradle provides functional and reduced space requirements. The GM4102-HC model is equipped with Datalogic's STAR Cordless System providing bidirectional communication.
All Gryphon HC readers include the patented Datalogic 'Green Spot' for good read/perfect match feedback, ideal for quiet environments such as bedside patient care where the perfect match can offer a simple additional tool to avoid errors.
The Datalogic Gryphon I GBT4102-HC comes with a manufacturer's 5-Year Factory Warranty against defects.