Datalogic Gryphon I GBT4100 Barcode Scanners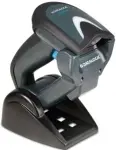 Manufacturer

All Options
Accessories
Specs
Datalogic Gryphon I GBT4100 Description
The Datalogic Gryphon I GBT4100 represents the premium line of Datalogic Scanning's general purpose handheld data collection products and offers the richest feature set among the general purpose products.

Featuring Bluetooth Wireless Technology, the Gryphon I GBT4100 readers eliminate the need for cables that limit operator movement and create safety concerns in the workplace. The reader can also transmit data to the host through its base station as well as to any commercial or embedded Bluetooth v2.0 compliant device.

Datalogic's unique 2-position cradle provides multiple features for the user. When in the 'up' position, this imager can be used as a hands-free or presentation style reader. With the Scan-While-Charging feature, there is never any concern about depleted or dead batteries, ensuring constant up-time for increased productivity.

Additional Features and Advantages of the Datalogic Gryphon I GBT4100:
Fastest speed-to-read - 325 scans/second.
Bluetooth Wireless Technology with up to 30 m / 98 ft range.
Point-to-point and multi-point transmission.
Two-position cradle with Scan-While-Charging capability.
Batch Mode capability (>1200 codes stored in memory).
Datalogic 'Green Spot' for good read feedback.
User-replaceable and long lasting Lithium-Ion battery.
Drop resistance to 1.8 m / 5.9 ft.The Datalogic Gryphon I GBT4100 reader's batch mode capability allows more than 1200 barcodes to be stored in the memory. Combined with a 33,000 scans per charge Lithium-Ion battery, these two features create unlimited mobility and reliable data collection when out-of-range.

Datalogic's exclusive patented 'Green Spot' for good-read feedback helps to improve productivity in noisy environments or in situations where silence is required. When using the product with the cradle at a 45 position, the Green Spot can work as an aiming system to aid in positioning the barcode for quick and intuitive reading.

Standard multi-interface capabilities include USB, RS-232, Keyboard Wedge and Wand Emulation for the Datalogic Gryphon I GBT4100 models. IBM interface models include IBM 46XX, USB and RS-232 Emulation for the GBT4110 models. The Datalogic Aladdin configurator provides user-friendly features that simplify the start-up procedure.