Datalogic Gryphon GM4500 Barcode Scanners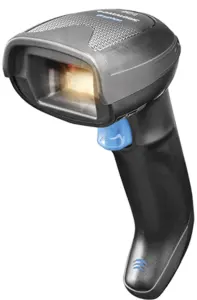 Manufacturer

Premium Cordless 2D Barcode Omnidirectional Scanner.
Scan Techniques - 1D & 2D Barcode Imager (1280 x 800).
Wireless Radio Range - up to 164 ft from Base.
Wireless Specs - Radio Frequency: 910 MHz; Point-to-Point Configuration; Max. Readers per Radio Receiver: 16.
Scan Range - from 0.2 in up to 22.8 inches Depending on Type & MIL size.
Warranty - Manufacturer warranty against defects for up to 3-years.
The Datalogic Gryphon GM4500 Cordless Scanner is a powerful and versatile handheld 1D & 2D barcode scanner suitable for a variety of applications. Its advanced imaging technology and durable design make it ideal for demanding environments such as warehouses, manufacturing plants, and healthcare facilities. The mobile scanner offers excellent motion tolerance and omnidirectional scanning capabilities, allowing users to capture barcodes quickly and easily from any angle. The Gryphon GM4500 also features wireless connectivity using Datalogic's Star Cordless System with 910 MHz Radio Frequency up to 164 ft. Its ergonomic design ensures comfortable use during extended scanning sessions, and its long-lasting battery provides reliable performance throughout the workday.
Datalogic Gryphon GM4500 Barcode Scanners - Options

All Options
Ready-to-Go Kits
Accessories
Specs

Datalogic Gryphon GM4500 Description

The Datalogic Gryphon GM4500 series represents the premium range of hand held scanners from Datalogic for general purpose applications.

Designed with people in mind, the Gryphon GM4500 stands out with its elegant and cutting edge design, the unchallenged ergonomics, and features the most advanced Megapixel sensor with white-illumination 2D technology for outstanding performance.

Featuring Bluetooth wireless technology (GBT model) or narrow band radio communications with Datalogic's STAR Cordless System(GM model), the Gryphon GM4500 wireless readers provide maximum flexibility to solve any end user application with the best technical solution.

One of the most important technical innovations that the Datalogic Gryphon GM4500 wireless scanners achieve is the battery recharge through an inductive charging system, which enhances the reliability of the entire solution, lowering the total cost of ownership because it eliminates the need for contacts' cleaning and maintenance procedures.

Additional Strengths and Advantages of the Datalogic Gryphon GM4500:

1 MP optics for superior scanning and DOF.
Datalogic distinctive technology with highly visible white-illumination and 4-Dot aimer with center cross for targeted scanning.
Datalogic's patented 'Green Spot' technology, exclusive 3GL (3 Green Lights) and Vibration for superior good-read feedback.
Motionix motion-sensing technology for seamless reading mode transitions.
Omnidirectional reading.
Image capture and document scanning capabilities.
Reads 1D, 2D and postal codes plus stacked and composite codes; Digital Watermarking and DPM reading on specific models.
Choice of Bluetooth wireless technology version 4.0 with BLE or Datalogic's STAR Cordless System.
Wireless battery charging system.
Adjustable position cradle with Scan-While-Charging capability.
Batch Mode capability.
Point-to-point / Point-to-multipoint transmission.
Long lasting user-replaceable Lithium-Ion battery.

The maximum reliability offered by the Gryphon wireless charging technology means 24/7 activities with no stops for maintenance or repair and top-level operating productivity and performance.

The Gryphon GM4500 omnidirectional imager provides snappy reading performance on all common 1D and 2D codes. High Density (HD) models are available for reading smaller, condensed codes as well as a dedicated version with red illumination optics to support Digital Watermarking.

Datalogic's Motionix motion-sensing technology enables the scanner to intuitively switch into hand held mode when the device is picked up. When placed back into the stand, it seamlessly returns to stand mode. The adjustable position cradle provides the flexibility to use the scanner in presentation or stand mode while it's charging.

The Datalogic Gryphon GM4500 comes with a 3-Year Factory Warranty against defects.